Invitation from the CRA
The Hollywood Community Redevelopment Agency in partnership with The Rhythm Foundation presents Hollywood ArtsPark Experience: Rio, headlined by carioca (native of Rio de Janeiro) star Seu Jorge.  The evening begins with some top locally based Brazilian artists, and also offers a Brazilian culinary journey. The event is free and open to the public. ( See details below )
6:30 PM          :Brazilian Voices in concert
7:30 PM          :Rose Max in concert
8:30 PM          :Seu Jorge in concert in the amphitheater
Saturday, July 27, 2013  – 6pm to 11 pm
Other activities throughout the night will animate the Hollywood ArtsPark, a jewel in the middle of Hollywood business district including open art studios, activities for kids and more.
Hollywood ArtsPark Experience: Rio                                                                                         
Saturday, July 27, 2013  – 6pm to 11 pm
Hollywood ArtsPark, 1 Young Circle, Hollywood FL
Presented by the Hollywood CRA and produced by The Rhythm Foundation
Info:  RhythmFoundation.com or 305-672-5202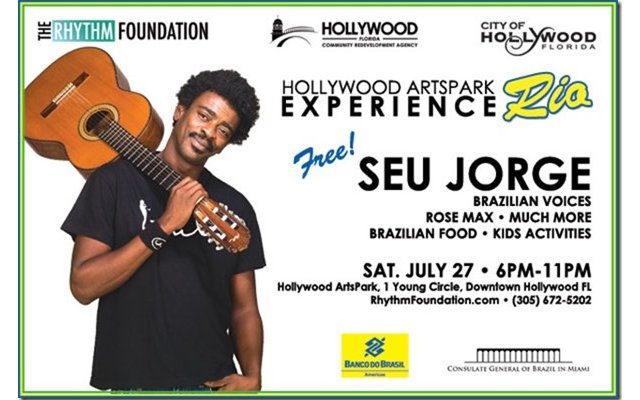 The Performers
About Seu Jorge
"If you had to nominate someone as the coolest man on the planet, for this week anyway, Seu Jorge would be a good candidate." – Peter Culshaw, The Telegraph (UK)
A star musician and actor, SEU JORGE has become one of the most popular Brazilian artists today.  Seu Jorge came to fame acting in two cult films.  In Brazil he starred as Knockout Ned in 2003's City of God; in the US he was the scene-stealing troubadour in 2005's The Life Aquatic, serenading Team Zissou with Portuguese versions of David Bowie classics.  Seu Jorge's US debut tour built on the audience developed through these roles, and the band enjoyed sold-out crowds at festivals and venues across the country.  Seu Jorge is that rare artist who is successfully able to bridge the language gap between Portuguese and English, and whose fame as a musician began first in the US before spreading across Brazil.
A live show with Seu Jorge quickly leads American music lovers into a crash course in Brazilian music, building on a base of classic samba with a dose of funk.  It bears the hallmark of Favela Chic, the trendsetting Paris club-restaurant-production team who co-produced Seu Jorge's early work, as well as his love of American rock.  His recent project Almaz, was a guitar-heavy collaboration with members of Nacao Zumbi.
Seu Jorge was raised in the favelas of Rio de Janeiro.  He joined a theater company after school to escape the pervasive gang violence and to become a role model to his younger brothers after another brother was killed in a drug lord-police battle.  In the mid 90s he became known as a musician with his group Farofa Carioca, leading to a solo career working with Mario Caldato (Beastie Boys). Seu Jorge has been living and working in Los Angeles, preparing for a starring role in a Jimi Hendrix bio-pic, and collaborating with memers of the Red Hot Chili Peppers.
[http://SeuJorge.com]
Brazilian Voices
Brazilian Voices, a non-profit organization, is a vocal ensemble that promotes cultural exchange through live music performed at cultural, educational, healing arts community and philanthropic events.  Founded in 2001, it features a cast of 45 all-female singers, led by the musical directors and co-founders Beatriz Malnic and Loren Oliveira.  The group performs more than 30 concerts each year, and helps promote and preserve the diverse Brazilian cultural heritage, with distinguished themes, dynamic repertoires, and original vocal arrangements.  Brazilian Voices is the recipient of nine Brazilian International Press Awards and has released 6 CDs in the US.  In addition to these concerts, the volunteer singers bring entertainment, relief and Brazilian culture to hospitals, senior centers, schools and civic centers throughout South Florida.
[http://BrazilianVoices.org]
Rose Max
South Florida's favorite Brazilian singer Rose Max and her guitarist Ramatis Moraes play classic samba music inspired by the nightclubs of the Lapa neighborhood of Rio de Janeiro. Accompanied by a great band and percussion section, Rose and Ramatis will make audiences dance, sing and smile.  Rose Max comes from a family of acclaimed carioca musicians. Her great-grandfather was famed composer and conductor Cupertino de Menezes and her grandfather Manuel de Menezes played guitar with samba legend Noel Rosa. Along with her husband and guitar player Ramatis Moraes, Rose Max moved to Miami in 1993. Over the past 19 years she has earned several Miami New Times "Best of" awards as well as three Brazilian International Press Awards.  In addition to concerts throughout South Florida and behind, Rose Max hosts a popular monthly samba dance party at PAX in downtown Miami.
[http://RoseMax.com]
About Hollywood ArtsPark Experience
The Rhythm Foundation, in partnership with the City of Hollywood and Hollywood CRA, launched the Hollywood ArtsPark Experience, a series of free community events celebrating South Florida's vibrant cultural diversity through music, food, folklore the arts. These family-friendly cultural showcases take place in the award-winning ArtsPark at Young Circle and US1 in Hollywood's charming downtown, a 10-acre interactive urban park which now boasts an expanded amphitheater that can accommodate up to 3,000 people, several play areas for families, a promenade for vendors and exhibitors, an indoor pavilion area for receptions and exhibits, playgrounds, and much more. Lawn seating is available and guests can bring a blanket or lawn chair.
SEE YOU THERE!!!!!!!!